We recently took a look at the one-of-a-kind women's fashion retailers and home decor and lifestyle boutiques that can only be found in Bloor-Yorkville. Today, we're putting a spotlight on the many exclusive men's fashion boutiques in our neighbourhood. Bloor-Yorkville has quickly become a hub of men's fashion with everything from bespoke suiting, custom tailoring, and hard to find brands making a mark in our neighbourhood. Put your best foot forward this spring and shop some of the best men's clothing stores in Toronto.
Shop local with one-of-a-kind men's fashion stores in Yorkville
CNTBND has become a destination shopping experience for men. Bloor-Yorkville is home to the only CNTBND boutique in Ontario and offers a highly exclusive selection of brands. Mixing high end fashion houses such as Lanvin, Phillip Lim, and Thom Browne, with niche designers such as Raf Simons, Junya Wattanabe, Dries Van Noten and more, CNTBRND is the ultimate destination for of-the-moment fashion lovers looking for hard to find pieces. With a distinctive style and one-on-one service, you're promised to find unique additions to your wardrobe.
135 Yorkville Avenue
416-928-1414
Bloor Street is home to the only Holt Renfrew Men standalone boutique. The 16,500 square foot store is a one stop shop for the "modern gentlemen," housing everything from more casual daywear to made-to-measure bespoke suiting, and accessories.  Aimed to create the ultimate in a luxury experience, shoppers can also take advantage of valet parking,  personal shopping services (including private shopping suites), and complimentary alterations. There's also a wide selection of men's grooming products.
100 Bloor Street West
416-960-2929
Isaia opened its very first Canadian storefront on the corner of Bellair Street and Yorkville Avenue. The iconic heritage building (and former Sheriff's Residence) provides the perfect setting with its mix of both modern and historical architecture. Isaia is rooted in its Italian heritage, with its first boutique opening in Naples in 1920. After making its mark as a fabric store, Isaia grew to become a renowned tailoring company, eventually designing garments for distribution around the world. The design and technology behind each Isaia garment is still firmly rooted in Neopolitan tradition. Guests at the Bloor-Yorkville location can browse suiting, apparel, accessories, loungewear, and of course, made-to-measure pieces.
75 Yorkville Avenue
647-345-7717
From start to finish, John Ferrigamo works with his clients to create custom suits and shirts, helping to guide clients based on their suiting needs. Each aspect of the suit is truly bespoke for each client, including all design details and fabrics. Depending on the occasion, time of year, and personal style, John works one-on-one to help design a suit that will never be duplicated. Each garment is predominantly hand made by the most experienced cutters and tailors who place an emphasis on comfort and durability.
93 Cumberland Street
416-924-6861
Stone Island's Yorkville Avenue boutique is the third North American location and the only in Canada. With a distinct, youthful "streetwear" aesthetic, Stone Island has made a name for itself with high-tech fabrics, including one used in a jacket that changes colours based on temperature.
The multi-level Yorkville Avenue location features the full range of Stone Island apparel, plus a floor dedicated to their Shadow Project – an experimental line that allows their designers to push the boundaries in fabrics, colours, and patterns.
After finding a superfan in the one and only Drake, it seems only fitting that Stone Island opened it's first first flagship in Toronto!
104 Yorkville Avenue
416-901-2040
Owner Nicolas Kalatzis his first Bloor-Yorkville boutique in 1991 and opened his Nicolas boutique on Cumberland Street in 2000. Throughout the years, Nicolas has been known as the go-to spot for bringing in European designers that others had not yet heard of. As the company grows, Nicolas challenges himself to be at the forefront of contemporary and modern, offering a diverse selection of the world's fashions and accessories for men and women. He also remains on-site each day making alterations to suits, jackets, and pants.
153 Cumberland Street
416-966-2064
Bloor-Yorkville is home to Toronto's only standalone Suitsupply boutique! Founded in 2000, the brand  quickly disrupted the men's dress wear landscape, offering clients the ability to customize and design suits at an attainable price point. While affordability is a hallmark of the company, the quality is aligned with designer brands (as declared by fashion industry icon, Tim Gunn!). In addition to custom suits, they also offer everyday essentials, including knitwear, coats, layering pieces, shoes (including sneakers), and every accessory imaginable, from socks to cufflinks, and scarves.
9 Hazelton Avenue
647-931-6270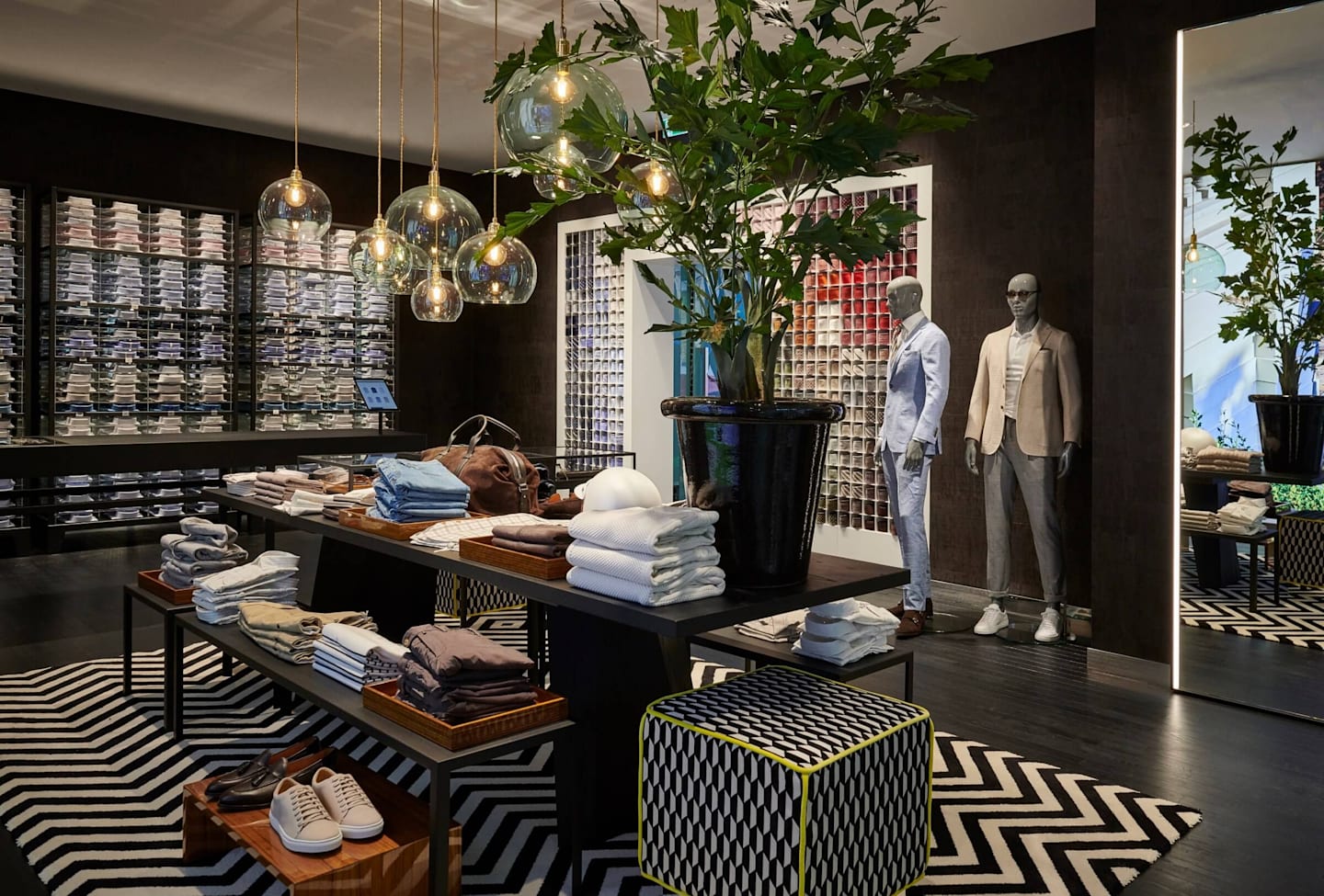 The team at Quattro Menswear consider themselves "craftsmen of a lost art: Made to Measure tailoring." With a particular affinity for weddings, Quattro specializes in custom made tuxedos for both the groom and wedding party. In addition to their custom made suits, Quattro offers a curated selection of blazers, shirts, jeans, and ties, in order to build an elevated wardrobe of every day essentials.
24 Bellair Street
416-929-7963
We hope to see you out this spring shopping local and discovering some of the best men's fashion in Toronto!
You can find directions to the Bloor-Yorkville, including public transit, car and bike here and browse our entire shopping directory here!