The iconic Park Hyatt Hotel recently reopened after undergoing an extensive renovation and redesign starting in 2018. The space features both the hotel, as well as a residence tower, each of which were redesigned in collaboration with Toronto-based design firm Studio Munge. Merging luxury, sophistication, and glamour, the final result of the Park Hyatt Toronto features a distinctive nod to Canadian heritage, literature, and art deco. Deeply rooted in the arts, the reimagined Park Hyatt features a permanent art collection with a number of pieces from Canadian and indigenous artists.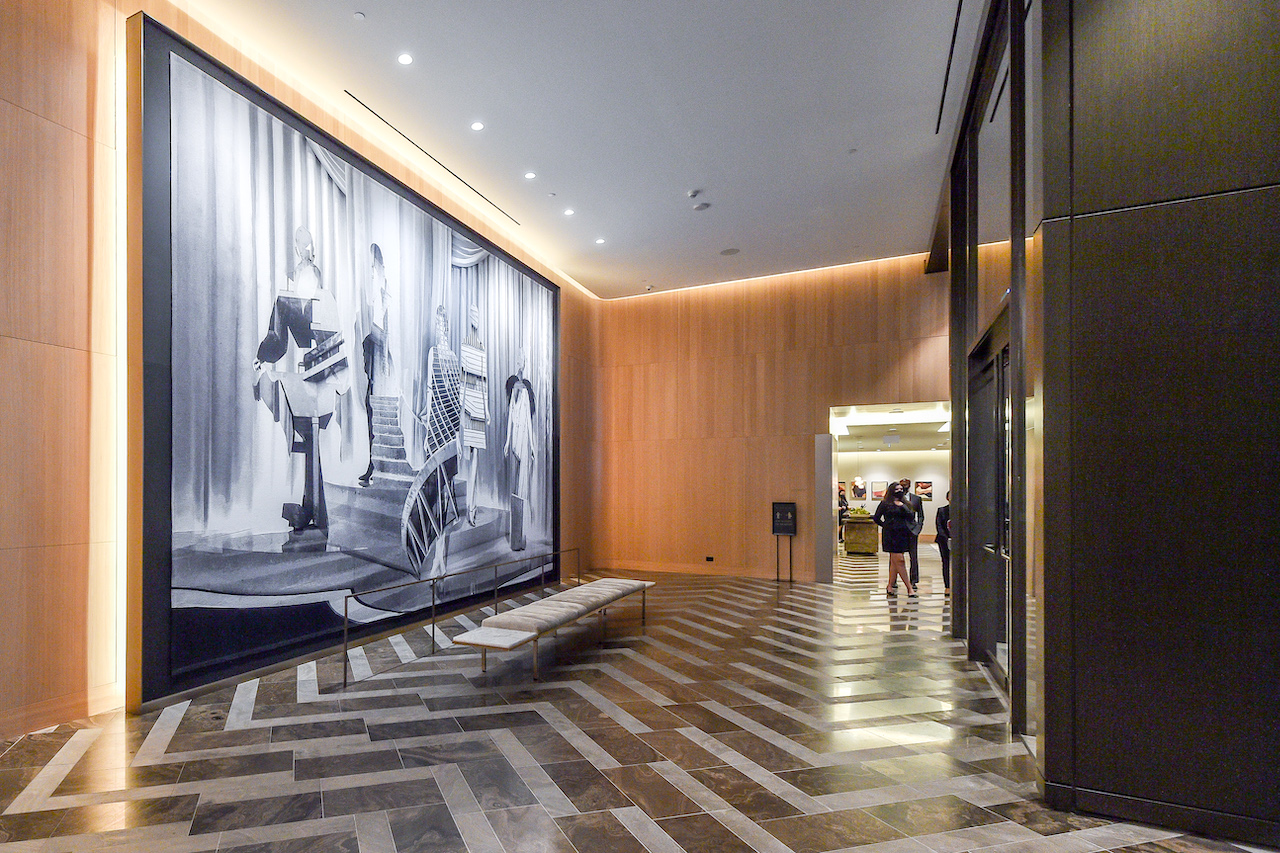 A stunning public sculpture, "Rendezvous," located at the entrance to the hotel, was created by Canadian artist An Te Liu and is meant to establish the hotel as a singular destination. Meanwhile, the lobby features a large-scale tapestry by Canadian artist Shannon Bool. The piece, titled "Dead Ringers," was designed to set the tone for each guest's "enriched and immersive stay." Featuring 219 guestrooms (including 40 suites), the Park Hyatt Toronto is deeply inspired by Canada's striking seasons and natural landscapes, resulting in a "home away from home" experience and feel.
Dining at the Park Hyatt Toronto
Of course, with the grand reopening of the hotel comes new dining experiences for the Bloor-Yorkville neighbourhood. Home to several of the top restaurants in Toronto, the Park Hyatt's Joni restaurant and Writers Room bar are set to impress.
Joni
Led by executive chef Anotnio Soriana, Joni features a one-of-a-kind menu with items such as a "Bees Wax Poached Lobster." Soriana brings with him over 25 years of experience in the culinary industry, working at Michelin-starred restaurants around the world. Offering breakfast, lunch, cocktail, and dinner service, Joni's menu will reflect a "micro-season" approach, utilizing fresh ingredients available across Canada while celebrating the true art of dining.
"Joni will bring a refined and distinctive approach to familiar dishes, pushing the boundaries of flavour, texture, and presentation," says Antonio Soriano, executive chef at Joni. "We carefully procure every ingredient with the best culinary techniques to create unparalleled moments within every bite and bring sophisticated cuisine to the forefront."
Beginning late fall, Joni will feature a Saturday and Sunday afternoon tea.
The Living Room
Adjacent to Joni, guests will find The Living Room, designed as a central gathering space as welcoming as one's own home. Featuring its own menu of snacks and casual fare, The Living Room is designed as a social destination with its own pairings for cocktails, wine, and beer.
Writers Room
With an unparalleled view of the Toronto skyline, the Park Hyatt's iconic rooftop bar returns as the Writer's Room, paying homage to the many literary legends who have "shared moments in the space."
Writer's Room features cozy furnishings both indoors and on the terrace; inviting guests to socialize, take in the views, and feel at ease in their surroundings.
The thoughtfully curated cocktail menu is designed to pair well with the food menu, featuring a number of share plates. While featuring several classic ingredients, the Writer's Room cocktails challenge the norm with new flavors, aroma, and presentation.
Amenities
Stillwater Spa
Reopening late this fall, the 8000-square-foot Stillwater Spa promises to be a true escape from city life.
Fitness
The Park Hyatt fitness center is open 24 hours a day, so matter what time zone you're operating on, your workout can remain a priority.
Pet Friendly
The Park Hyatt loves to welcome furry friends. Upon arrival, dogs will enjoy their own pet bed, water bowl, and treats.
Special Events
Featuring 13,000 square feet of versatile event space, the Park Hyatt can accommodate everything from "the boardroom to the ballroom." Whether a corporate affair or a posh wedding reception, their venue offerings include a grand ballroom and rooftop terrace.